Wood Cadier: antiseptic, soothing, parasiticidal
Neroli: relaxing
Chamomile: anti-inflammatory, analgesic, soothing
Palmarosa: antibacterial, antifungal, analgesic, anti-infective, healing
INGREDIENTS: GLYCERIN*, COCAMIDOPROPYL BETAINE, DECYL GLUCOSIDE, SWEET ALMOND OIL POLYGLYCERYL-6 ESTERS, JUNIPERUS OXYCEDRUS WOOD OIL, CYMBOPOGON MARTINI OIL, ANTHEMIS NOBILIS FLOWER OIL, PISTACIA LENTISCUS LEAF OIL, XANTHAN GUM, PARFUM, GERANIOL, LIMONENE, LINALOOL, BENZYL ALCOHOL, DEHYDROACETIC ACID.
*Vegetable origin.
This shower gel doesn't contain: FRAGRANCE, ARTIFICIAL COLOURING, SURFACTANT, PRESERVATIVE (sodium lauryl sulfate (SLS), sodium laureth sulfate (SLES), ammonium lauryl sulfate, paraben, ethoxylates, silicone, methylisothiazolinone...)
With all this good ingredients, my lifetime is 24 months after opening.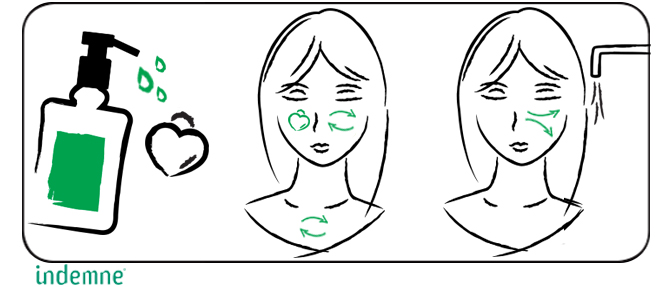 Morning and evening :
Apply a few drops of the cleansing base Gimme Soothing! gently on the entire body. You might be surprised because it does not foam much, but this is a good sign.

More tips :
For her : it can remove make up gently with fingertips (avoid using a cotton pad on very sensitive or irritated skin).

For him : it can be use as a shaving foam on a damaged/irritated skin.
 Precaution for use : 
Not suitable for children under 36 months-old. 

Not use on broken, bleeding skin.

It is recommended to use the product twice a day and to cut your nails to avoid scratching any skin already damaged.
Duration of the Protocol : 
It is recommended to follow this protocol until improvement of the appearance of your skin.

It is recommended to continue the protocol as a preventive routine and/or as soon as the first skin irritations or symptoms appear.
Period of use of bottle :
Nous vous recommandons :
Always test the product on the inner elbow and leave it for 24 hours before applying to larger skin areas. 

Tightly close the bottle after use to prevent active plant extracts to fly away! Keep our special formulas in a dry, dark place, away from direct light.
Enregistrer